Asian Antique Auctions
See our current auctions of Asian Antiques here. It doesn't matter if the item is worth $100 or $100,000, our Asian antique auctions always start at $9.99 with NO RESERVES !!!
Visit this eBay Store for Asian Antiques >>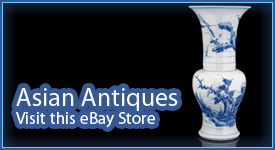 Our Other Antique, Fine Art and Collectible Auctions
Chamberlain Antiques is continuously offering all kinds of fine Antiques, works of art, and collectibles, for your bidding pleasure.
Visit this eBay Store for other Antiques, Fine Art and Collectibles >>