Since 2003, Chamberlain Antiques has offered museum-quality antiques at affordable price points. We're internationally recognized experts and pay cash for antiques and estates.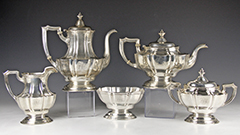 We pay cash for individual antiques, collections, and/or estates. Learn how our buying power sets us apart from other dealers and auctioneers.

Chamberlain Antiques has sold over 10,000 fine antiques, works of art, and collectibles on our top-rated eBay stores with 100% positive feedback.
If you are an estate trustee or helping a loved one downsize, our appraisers come to you and clearly lay out the value of your estate based on latest trends.
I wanted to thank you for your for assisting me in selling my mother's silver collection. You were very professional and helpful and would happily recommend Chamberlain Antiques.
Josh was extremely helpful when it came time to sell my inherited family collection. He was very informative and treated me fairly. I would highly recommend Chamberlain Antiques.
Hi Joshua, it was a pleasure to do business with you and your father. You were informative and helpful. Thanks for coming – if anything comes up in the future we will be sure to give you guys a call first.
I've done business with Josh and his family going back over ten years and it's always been a pleasure. They have always been straight forward, knowledgeable and responsive.
Chamberlain Antiques
5 Northern Blvd, Suite #7
Amherst, NH 03031
(603) 769-3390
Contact Us
"*" indicates required fields